Pole Dancing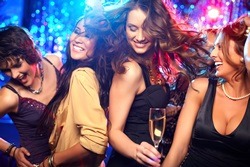 If you think pole dancing is just for professionals, you need to check out our Pole Dancing package for hen parties. You can get a lesson to this exotic art along with your friends, and pick up some tricks to impress your significant other. Pole dancing is far more difficult than it looks, but it is the perfect way to look and feel sexy. If you want more than just the run of the mill hen party, SydneyHensNights.com.au has just the thing for you. Our website has booking packages for this fantastic night out, and you even get to ride in the party bus.
Pole dancing is not just a way to strut your stuff; it is also a skill that is a fantastic workout. If you've ever wanted to know just what it feels like to be the centre of attention, you can enjoy our lessons for this delightfully naughty art. We pick you up on the party bus, which is a show all by itself, and will drop you off at your group pole dance lesson. You can dress in the costumes that are provided, and sparkle and sip champagne while you learn your best moves and show off your new routine!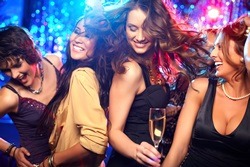 An instructor will walk you through the basics of the pole dancing, and will help you and your hen party develop a dance routine in your costumes. We provide a photographer to snap photos of this memorable night with your friends, and you can sit and relax with your bubbly champagne in between "sets". If you want to feel like a diva, this is the way to go! After the lesson, the party bus will take you and your friends to the next stop or to your dinner reservations – all you have to do is enjoy!
The party bus will take you to the pub, the restaurant, the pole dancing lesson, perhaps a male stripper and we even provide a tour guide, a photographer and the bus itself. Our bus is full of hip club lighting, a superb sound system and all the music you could ever want. Grab your friends, grab your drink, and head out for a night you'll never forget. Sydney hen parties are the best around, and after you've enjoyed our booking, you'll be sure to spread the word about the best party in town. When the fun is done, we even drop you off at home.